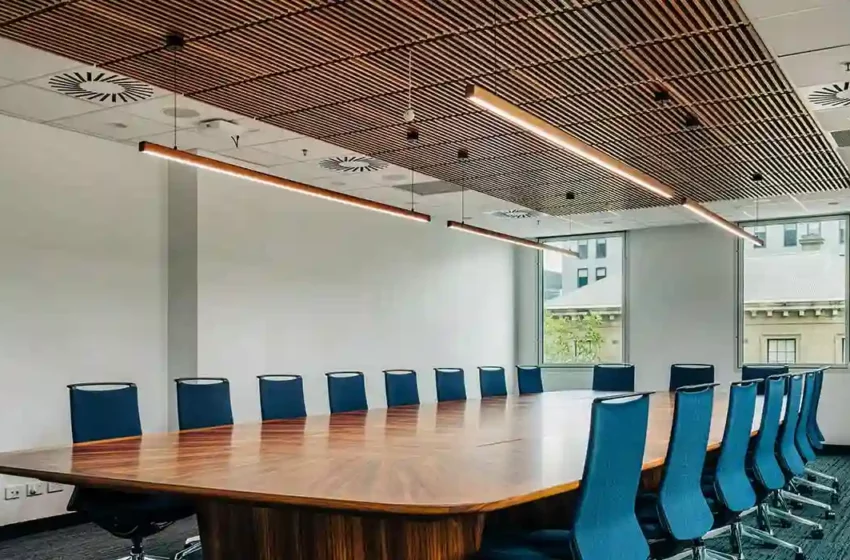 Enhancing Acoustic Bliss: The Marvel of Acoustic Ceiling Panels
In the modern symphony of life, where urban clamor and technological hum are ever-present, the need for acoustic harmony is more vital than ever. Noise pollution not only affects our well-being but also dampens our quality of life. Enter acoustic ceiling panels, the unsung champions of sound control, orchestrating an environment of tranquility. This article unravels the world of acoustic ceiling panels, exploring their purpose, types, benefits, and the transformative impact they wield in curating spaces of auditory bliss.
Functionality and Benefits of Acoustic Ceiling Panels
Acoustic ceiling panels are the virtuosos of sound control, engineered to absorb and diffuse sound waves. Their purpose lies in their ability to mitigate echoes, reverberation, and unwanted noise, creating spaces that exude acoustic serenity. These panels don't just reduce noise; they refine auditory environments, ensuring that every note, word, or conversation is crisp and clear. The benefits of acoustic ceiling panels extend beyond sound management; they enrich speech intelligibility, elevate the auditory experience, and contribute to holistic well-being.
Types of Acoustic Ceiling Panels
The world of acoustic ceiling panels boasts a diverse range of options to address different acoustic needs. Acoustic tiles, commonly found in commercial spaces, offer a blend of functionality and aesthetic appeal. Acoustic clouds, suspended from ceilings, contribute to an open and airy atmosphere while diffusing sound. Acoustic baffles, suspended vertically, create a dynamic visual element while enhancing acoustic balance. Acoustic stretch fabric systems offer a modern and seamless solution, imbuing spaces with acoustic performance and design sophistication.
Installation and Placement Considerations
The successful installation of acoustic ceiling panels requires precision to unlock their full potential. Proper installation methods, whether direct attachment or suspension, ensure optimal sound-absorbing performance. Strategic placement of panels in areas prone to sound reflections and reverberations is essential. These panels become part of the architectural ensemble, complementing interior design while providing a harmonious auditory environment.
Applications of Acoustic Ceiling Panels
The versatility of acoustic ceiling panels positions them as indispensable tools across a spectrum of settings. In bustling commercial spaces such as offices, conference rooms, and retail stores, these panels foster focused conversations and minimize auditory distractions. Educational institutions rely on acoustic ceiling panels in classrooms, auditoriums, and libraries, elevating the learning experience by reducing noise interference. Healthcare facilities deploy these panels in waiting areas and clinics, creating serene environments conducive to healing. In the realm of entertainment venues, from theaters to music studios, acoustic ceiling panels harmonize auditory experiences, ensuring every note is received with clarity.
Aesthetic Considerations and Customization
Acoustic ceiling panels go beyond functionality, becoming a canvas for design expression. With a range of design options, including colors, patterns, and textures, these panels can align seamlessly with existing aesthetics or stand as creative statements. Architects and designers have the opportunity to balance acoustic efficiency with visual appeal, resulting in spaces that captivate both the eyes and ears.
Technological Innovations in Acoustic Ceiling Panels
Advancements in technology have propelled acoustic ceiling panels into a new era. Innovative materials enhance sound absorption and diffusion, optimizing their performance. The integration of smart technology allows real-time adjustments to cater to varying acoustic demands. These panels even extend their functionality beyond acoustics, becoming platforms for integrated lighting and HVAC systems.
Sustainability and Environmental Considerations
In a world where sustainability is paramount, acoustic ceiling panels align with environmental consciousness. Many panels are crafted from eco-friendly materials and support green building certifications. By contributing to energy efficiency and indoor air quality, acoustic ceiling panels marry auditory innovation with environmental responsibility.
Maintenance and Longevity of Acoustic Ceiling Panels
To ensure that acoustic ceiling panels continue to perform their role effectively, proper maintenance is essential. Regular cleaning and care preserve sound-absorbing effectiveness while safeguarding durability. Regular inspections ensure that these panels remain steadfast in their commitment to sound control.
Cost Considerations and Return on Investment
Investing in acoustic ceiling panels is an investment in auditory luxury. While there are initial costs associated with panels and installation, the long-term benefits in terms of improved acoustic quality, enhanced comfort, and reduced noise disturbance make them invaluable. Their cost-effectiveness compared to alternative sound control methods further solidifies their value.
Conclusion
Acoustic ceiling panels are the virtuoso conductors, crafting auditory landscapes that resonate with harmony. In a world where noise is an omnipresent companion, these panels emerge as the architects of serenity. Their role in shaping spaces that prioritize sound quality and comfort is a testament to the synergy of science and design. As we navigate the cacophony of modern life, acoustic ceiling panels remind us that in the midst of noise, we can carve out pockets of tranquility, creating environments that are not only visually appealing but also acoustically gratifying.