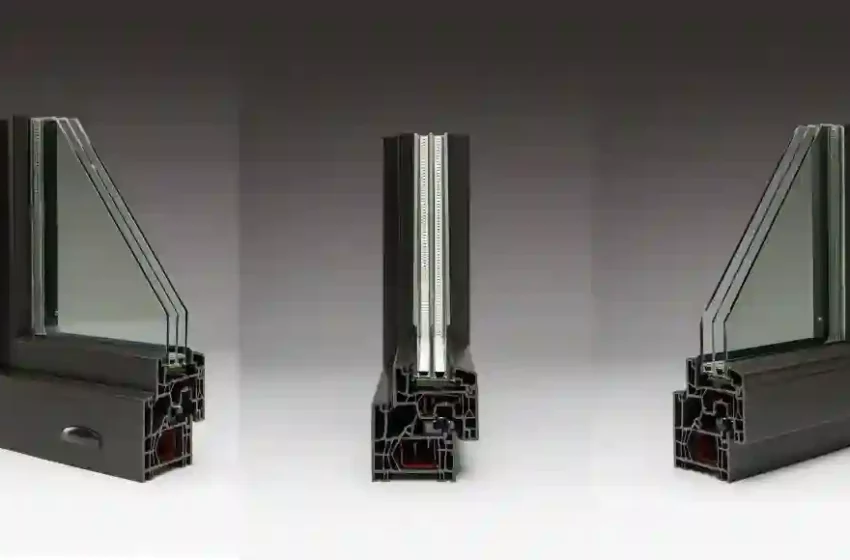 How triple-pane windows keep energy inside
Upgrade to triple-pane windows right away. This marks the end of a series of experiments conducted by the Pacific Northwest National Laboratory of the Department of Energy in collaboration with a number of public and private partners.
According to Kate Cort, PNNL research economist and program manager for ongoing triple-pane window field validation studies, "lower costs, greater availability, and the desire to reduce carbon emissions are bringing us toward a tipping point where triple-pane windows start making a lot of economic sense."
It's no secret that windows in a house may waste a lot of energy. Even the most modern double-pane windows can leak air, which greatly increases a home's energy use and costs.
Windows typically make up 8% or less of a new home's exterior surface area but are responsible for 50% of heat gain or loss. Windows significantly increase the cost of heating and cooling a home due to this passive energy loss.
Since the first prototypes were introduced in 1989, evidence has been progressively accumulating that triple-pane windows are more energy and financially advantageous.
Triple-pane windows are more energy efficient than double-pane windows, according to prior research, but market adoption has been constrained by price and availability.
Cort claims that those disadvantages will soon disappear. New thin triple-pane windows are more affordable and easier to install into double-pane frames than older models.
As the name suggests, triple-pane windows have three glass panes that are double-decker sandwiched together and filled with an inert gas, like krypton, to provide more insulating power.
The better glass manufacturing technology that creates tiny yet dependable TV and computer screens also provides economies of scale for these next-generation windows.
The last three years have been meticulously spent by Cort and her colleagues analyzing the energy savings and financial factors that will determine how rapidly they are adopted by builders.
This project was funded by the DOE Building Technologies Office and the Bonneville Power Administration.
State energy regulators are now paying attention. The state of Michigan recently updated its technical resource guide with information from a PNNL field study on triple-pane windows that lists authorized energy-saving solutions eligible for utility incentives and rebates.
A sense of urgency is produced by new energy standards
Cort, Edward Louie from PNNL, and Robert Hart from Lawrence Berkeley National Laboratory discovered in a recent study that triple-pane windows can help builders meet more stricter energy rules for new homes in 2021 at a cheaper cost.
Their study, which appeared in the March 2022 issue of the ASHRAE Journal, showed that upgrading a new home's windows from double to triple pane can increase the energy efficiency performance of the windows by at least 40%.
The exterior of the house, sometimes referred to as the building envelope, has a higher overall insulating value as a result of this better performance.
According to Cort's research, boosting the energy efficiency of windows allows for greater design freedom and the ability to compromise with other envelope elements like exterior wall insulation while still meeting code.
The overall result is to give builders more options, more certainty of compliance with building codes, and greater homeowner comfort.
What's wrong with triple-pane windows, exactly?
According to Cort, the adoption of cutting-edge home construction technology depends heavily on builders.
29 home builders who had participated in the DOE Zero Energy Ready Home program in 2020 were subjected to an interview by her and her colleagues.
They asked contractors to describe how they made their window selection decisions throughout the 2018–2019 building season.
Triple-pane windows were used by 28% of these home builders in most or all of their residences, and by 41% of these home builders in all of their new homes.
For those who did not use triple-pane windows, cost was the most crucial factor.
"Builders have been frustrated by the cost differential between double-pane and triple-pane windows," Cort added.
She did point out that for a 2,400 square foot wood-framed home, the additional material cost for triple pane windows cost start from $700 to $2,400.
This essentially equates to insulating the same house's structural walls with an additional inch of insulation.
Indirect costs for installing triple-pane windows, which may be 25% to 50% heavier than equivalent-sized double-pane windows, were also highlighted by some builders.
The majority of builders are unfamiliar with the newest smaller, lighter triple-pane technology, according to Cort.
The majority of individuals, according to the research, would be open to giving them a shot if the price and availability were reasonable.
The comfort and quiet of triple-pane windows are preferred by purchasers, according to some of the builders Cort's team spoke with.
According to a recent research, adding thin triple-pane windows reduced sound infiltration by an average of 8 to 10 dB when compared to a home with double-pane metal-frame windows, or around a 50% reduction in perceived noise.
A Seattle builder said, "When someone enters into the house and you close the door, it's like getting into a Mercedes or BMW."
"It is very robust and quiet. We are building homes close to Boeing Field airport in Seattle. The houses can see the planes since they are flying so close, but the interior is so quiet that you cannot hear them."
Projects that serve as examples are opening the way
According to Cort, when new methods of building homes are presented, contractors need assurances that the materials will be accessible when required, endure use, and provide the claimed improvements.
The Partnership for Advanced Window Solutions was established by PNNL, DOE, Lawrence Berkeley National Laboratory, and the Northwest Energy Efficiency Alliance to assist in achieving these goals.
With support from DOE, this public-private partnership is working with manufacturers, utilities, and builders to boost demand for high-performance windows and other affordable "drop-in" thin triple pane windows designs.
The PNNL team recently assessed the effectiveness of these windows' energy efficiency in its Lab Residences, a pair of identically built homes meant to study energy efficiency.
During the summer cooling season of 2020 and the winter heating season of 2019, researchers monitored energy use and temperatures in the homes.
The windows helped the 1,500 square foot buildings save an average of 12% on heating and 28% on cooling throughout the two 10-week evaluation periods.
In addition, during both the summer and winter testing periods, the house with the triple-pane windows kept the interior much more evenly heated while reducing exterior noise.