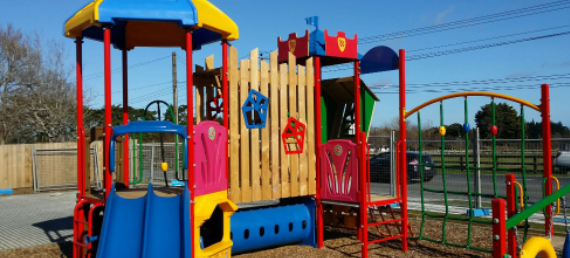 Preschool Play Equipment- Designed To Help Kids' Development
Our preschool play structures are licensed and accredited by various organizations. Child Care Licensing and the National Association for the Education of Young Children (NAEYC). These solutions have been built specifically for the tiniest of adventurers by using best practices in satisfying early development standards. The preschool play equipment segment is for children aged 6 to 23 months who demand safe, age-appropriate environments that inspire them to explore their surroundings. These items are intended to enhance play in either an indoor or outdoor learning setting. Each structure or autonomous play event is designed to help young children develop sensory, cognitive, social, linguistic, and physical skills.
Things to Think About When Designing Preschool Climbing Structures
When looking for early childhood playground equipment for sale, keep the following in mind:
Age-Appropriate Equipment:
Children's play places Children aged 6 to 23 months should have supervised spaces where they can wander about and explore. Sensory development has a big influence on this age group; they use their eyes, hands, feet, torsos, and mouths to investigate their surroundings. They require room to explore their surroundings apart from older peers because they are mostly on the ground or floor at this stage. Crawling, sitting, pulling up, standing, and walking should all be possible inappropriate preschool climbing structure play settings for this age group. Consider toddler playground equipment that includes climbing equipment that is under 32″ high to reduce the risk of injury from falls.
Enriching Equipment: 
Education begins at a young age, and your play area can assist in the development of physical ability, balance, and confidence in toddlers. Look for playground equipment that promotes the growth of social skills, cognitive talents, physical agility, and other capabilities. Toddlers can exercise their gross motor abilities on ramps and single-file step ladders, while slides of moderate height and spring riders can help them practice their balance. Consider making low crawl tunnels and preschool climbing structures that encourage crawling by removing all other visual and auditory distractions. Fine motor skills training and cognitive ability development are both enhanced by activity panels and pull-up handles.
 Easy Access for Caregivers: 
Early childhood caregivers must be able to support and assist children on playground equipment if necessary. It's essential to design a play area that is easily accessible to teachers and has adequate visibility so that caregivers can keep an eye on the kids while they're playing.
Customized Playground Structures for Preschoolers: 
Due to the wide range of needs of different organizations, groups, and communities, no two play areas are the same. Creative Recreational Systems provides personalized playground structures for preschoolers' alternatives, allowing you to choose the colors, features, innovative designs, and play equipment that you want. We can help you design a playground around a specific theme, match it to your brand's colors, or link it with a larger playground for older children.
Support: 
Our comprehensive customer service program ensures that you'll never be alone if you run into problems when planning, building or maintaining your brightly colored preschool playground equipment. When it's time to buy your next playground, we want you to be able to count on the helpful play experts at CRS to guide you to the best options available.
Safety and Durability: 
We endeavor to produce quality outdoor play structures that are both safe and inventive for our outdoor playgrounds and daycare preschool playground. Commercial-grade steel posts, vinyl-coated perforated steel decking, and high-density polyethylene plastic are used in the construction of our systems. All of these features ensure the highest levels of safety, durability, and corrosion resistance. The powder-coated and UV-stabilized finishes ensure that they stay as bright and vibrant as the children's imaginations. All of the CPSC (Consumer Product Safety Commission), ADA (American with Disabilities Act), and ASTM (American Society for Testing and Materials) requirements are met or exceeded by all of our products (American Society for Testing and Materials).
Contact Creative Recreational Systems for Early Childhood Playground Structures
Early childhood is a time of play, growth, and self-discovery. With early childhood play structures from Creative Recreational Systems, you can make your little explorers' adventures even more unforgettable.
We're a commercial preschool play equipment manufacturing company with over 40 years of experience serving businesses, daycares, governments, and other groups around the country. You'll find play devices that are industry leaders in terms of safety, innovation, and inclusive play in our large assortment of early childhood designs.
Contact one of our creative experts today by contacting us online or calling. We'd be delighted to assist you in designing, building, and installing the greatest playground structures for preschoolers and early childhood playground structures for you and your little adventurers!
click here for more articles.