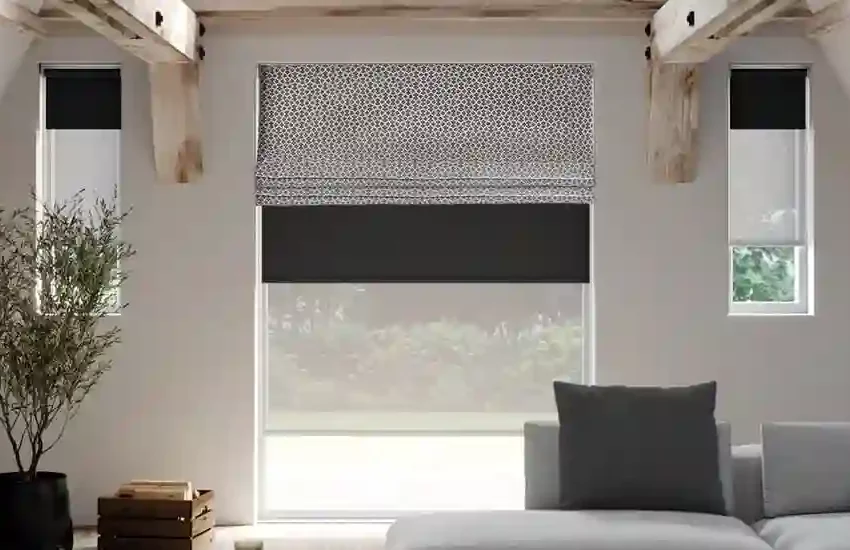 Which blind should I select based on the room in the house?
Installing shades in each of your home's rooms is a nice compromise to achieve a light home with a smaller vis-à-vis. Important benefits of natural light include wellbeing.
The various types of blinds can significantly alter how your home feels thermally and visually.
The blinds have all the qualities to please you and fit each of your rooms. They are a decorative tool that is also energy efficient, shields from the heat in the summer, and lets in the sun in the winter.
The ideal window blinds for your kitchen
One area of the home that is susceptible to moisture and clutter is the kitchen. It is advised to use a Venetian blind, ideally with aluminum slats.
The material is popular due to its ease of washing and resilience to dampness. Another option is a day/night roller blind with a canvas made of horizontal stripes that can be taken off for cleaning.
To get rid of the dust and oil that adhere to it, washing must be done by hand with a sponge.
The blind can be attached to the window woodwork or to cables on either side of the glass if your window can tilt and turn.
As a result, it will be able to smoothly follow the opening and closing of your window. These various blinds allow you to cook in the open air while using daylight.
Blinds for your dining room and living room that are functional and beautiful
Large format blinds are necessary if your dining room or living room has bay windows.
Pleated blinds and roller blinds both offer an additional ornamental element. You get to decide the color and if you want a design or not.
Horizontal slat Venetian blinds are helpful for regulating the quantity of light entering the space.
By selecting the proper dimensions, these can also be made to fit windows.
The variety of colors and materials available for the Venetian blind, including wood, bamboo, and aluminum, allow you to coordinate it with your décor.
The Japanese panels and Roman blinds from blinds-discount, which are made to order, give your living room and dining room an upscale feel when used with a sliding bay window.
Additionally, they are quite useful. Your bay window opens vertically, making it simple and quick to operate.
Depending on where your property is located, you can choose between a transparent fabric that lets more outside light to pass through and a filtering fabric that helps you keep your privacy.
An additional benefit of having internal blinds in your dining room or living room is the elimination of sun reflections on your computer, phone, and television screens.
A suitable blind for a bedroom that's bright or dark
You can pick a Venetian blind for your bedroom from a variety of colors and materials.
The same benefits apply to a roller blind that features horizontal bands with a sifting effect. You may adjust them to control the amount of light that enters your room and fosters intimacy.
The blackout blind will be your ally if you want all brightness entirely blocked. It provides you with the most darkness and is comparable to shutters.
It comes in a variety of colors to complement your décor and different forms to fit the size of your window.
A blackout blind is frequently used with roof windows since it functions as a shudder. The location of this window on your home's roof exposes your room to intense heat.
The sun blind roof window blind, which is installed outside, is very useful for blocking out the sun and preventing the temperature in your room from rising.
A blind for your bathroom's privacy
The bathroom is a home's most damp and private space. A Venetian blind constructed of aluminum slats is useful and practical for hiding you from prying eyes.
Its substance makes it easy to clean and allows it to withstand dampness. You can select roller blinds from the different colors and sizes offered to enjoy the blind's attractiveness in addition to its use in your bathroom.
Inside blind: work in your office without being distracted by reflections.
When working in your office, are the sun's rays dazzling you? You can alter a Venetian blind or a pleated blind to suit your preferences and requirements.
It is possible to partially open the blind in order to let in some light. You'll be able to work with natural light without having to worry about distracting reflections on your supports, such computer displays.
Blinds come in a variety of shapes that fit windows and bay windows, and their colors—which range from black to red to yellow and white—allow you to match them perfectly to the design of your office.
Install the right blinds to keep the heat off of your veranda
Your conservatory's size will determine the style of awning you need. Choose a sliding awning to cover the veranda's ceiling if you want a roomy space. A pleated roof blind is adequate if your space is smaller.
Other designs, like the cable awning and the anti-heat blind, can be modified to fit various surfaces.
Installing a blind allows you to enjoy your veranda without becoming overheated by limiting the amount of sunlight that enters your space.
The blinds allow for the use of natural lighting instead of artificial lighting when desired.
The limitations of reflections, direct sunlight, and severe heat are eliminated by their installation.
With so many options available for their colors, materials, and sizes, you have a lot of opportunity to use your blind as an additional decorative element in your home.